History of Gunkanjima
Hashima (Gunkanjima) contributed to Japan's modernization.
Around 1810 (the 7th year of Bunka), coal was found in Hashima (nicknamed Gunkanjima).
Around 1890 (the 23rd year of Meiji), 80 years later, Mitsubishi Corporation purchased the island and started full-scale mining.Hashima's good quality coal contributed to Japan's modernization along with the neighboring island, Takashima.
The island developed rapidly, proportionate to its increased output of coal and as many as 5267 people were living there in 1960 (the 35th year of Showa). It was said to have the world's highest population density, 9 times that of Tokyo.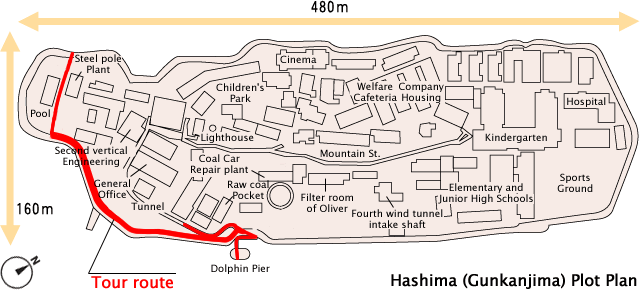 Furthermore, more than half of the island was a mining area with workers' domitories, schools and the hospital occupying the rest of the land.
In this area of dense population, people were on good terms with each other as if they were one family.
Charm of Gunkanjima
Gunkanjima has kept attracting many people.
The " Ruined Island " still excites a feeling of people's curiosity to this day, because the whole island remains as a prosperous time.
In the island, we can feel life in Showa through home electrical appliances neglected and traces of life.
In 2009, the ban on landing on the island was lifted and many people visit the island in these days.
Would you like to experience the history and the charm of the ruined island?
Past and Present of Gunkanjima
In 1974 (the 49th of Showa), Hashima coal mine was closed as the principal energy demand shifted from coal to oil. People left the island with a variety of emotions.
Hashima became uninhabited just as it was. In 2001 (the 13th year of Heisei) it was officially transferred from its owner, Mitsubishi Materials Corp. (the former Mitsubishi Mining Co.,Ltd) to Takashima-cho, coming into the possession of Nagasaki-City.
In 2008 (the 20th year if Heisei), it was decided that Hashima was to be put on the interim list for the World Heritage as a part of "Industrial Heritages for Modernization in Kyushu and Yamaguchi." This has increased attention to Hashima (Gunkanjima).
In April, 2009(the 21th year of Heisei), the ban on landing on the island was lifted, making tours on the island available.(*) *Only when safety standards are met.